In 1979, when musician and entrepreneur Chuck Surack founded Sweetwater Sound, a mobile recording studio in the back of his VW bus, he never imagined that one day his humble venture would grow into one of the largest online retailers of musical instruments and audio equipment in the world.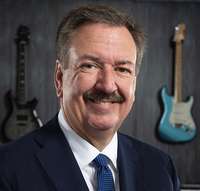 By the early 1980s, thanks to Surack's creative and technical skills, Sweetwater Sound had become one of the leading recording studios in Fort Wayne, Ind., and the surrounding area. The first exciting milestone for the growing company came in 1984 when Surack saw a prototype of the groundbreaking Kurzweil K250—one of the first digital keyboard samplers—unveiled at an industry show. He quickly realized the "wow" impact the instrument could have on his customers' recording experience. (Imagine being able to play back a customer's music accompanied by a concert grand piano or a cathedral choir, he points out.)
As one of only a handful of musicians who owned the original K250, Surack became part of an enthusiastic user group that included artists like Stevie Wonder, Kenny Rogers, Bob James and Lyle Mays. Early on, Surack set about reverse-engineering the instrument and soon began to develop custom sounds and software for it. The other musicians turned to Surack for help customizing their K250s and then began requesting sheet music on the computer, which he had been creating in his studio for several years.
"So I became a dealer for software and sheet music on the computer," Surack says. "And then they wanted recording equipment. My business had changed from being just a recording studio to helping my friends all over the country." By 1990, the retail business had outgrown Surack's home, and he moved to a 5,000-square-foot building. He hired five employees to help carry out his original objective: "We're all still talking to friends across the country and helping them with their music equipment," he says.
Enduring Customer-Centric Mission and Values
Over the decades, Sweetwater has undergone tremendous change. The company now employs 1,800, with 500 dedicated sales engineers. The facility has expanded from a single building to a campus that sits on 163 acres and houses a music retail store, music academy, performance and production workshops, performance theater, cafe, diner, a salon and spa, an arcade and game area, an outdoor performance pavilion, and of course, Sweetwater Studios, a state-of-the-art multiroom full-service production facility. For Sweetwater employees, the site also includes a health clinic with an on-site doctor, fitness center with a personal trainer, indoor racquetball court, video lending library, concierge services like dry cleaning, and classroom training facilities.
Despite its remarkable growth, Surack's original objective—to help friends make music—and the emphasis on building one-on-one relationships with customers has not changed. "We talk to customers about their music, their music equipment and what they're doing. It's a very unique way that we sell," he explains.
Sweetwater's customer experience mission is simple: "Always do the right thing." Surack and his leadership team support the mission by empowering employees to do whatever it takes to take care of customers—and each other. As he says: "If we don't take care of our employees, how can we expect them to take care of our customers? Every employee at Sweetwater is empowered to replace a keyboard, replace a guitar, buy someone lunch or pay for an Uber ride. I never want to hear, 'We need management approval.' We recruit hard; we train hard. I know the quality of the people I've got, and I empower them to run the business as if it's their business."
The company's CX mission dovetails nicely with a philosophy known as "The Sweetwater Difference," which Surack jokingly describes as "a whole bunch of technical and practical things that we do." He points to the website's Guitar Gallery as an example: "We put every guitar that we sell through a 55-point inspection to ensure that it will play perfectly right out of the box. Then we take high-resolution, detailed photos of each guitar to show the differences in the wood grain, color and finish, and serial number."
This meticulous attention to detail for every single guitar allows the customer who may be shopping at 3 a.m. to be confident in their purchase decision. A sales engineer will then follow up the next day with a thank-you call and to discuss any other needs.
"We try to be superior at what we do. We want to offer the absolute best we can to the customer," Surack explains. "We're not driven by one quick sale; we're driven by always doing the right thing."
As CEO, Surack believes that it is essential for him to continue to be accessible to customers—even today. His email address is posted on every invoice that goes out—10,000 to 20,000 invoices every day—with a note that urges customers to reach out to him with any problems, concerns or comments. "I get hundreds of messages a day, and I respond to every one of them," he notes.
Leadership Visibility and Engagement Reinforces Culture
Studies have shown a clear correlation between CEOs who are visibly involved in the operation and high employee engagement. Surack's "walk-the-talk" leadership style not only reinforces Sweetwater's values to its customers and staff, but it also forms the foundation of the company's culture.
The values that Surack models daily are rooted in his childhood as a former Boy Scout. "A Boy Scout learns to be trustworthy, loyal, helpful, friendly, courteous, kind, obedient, cheerful, thrifty, clean, brave and reverent," he says. "Those are amazing principles to live by, personally and professionally. I live my life day in and day out by those principles, and that's how I try to run the company. I don't expect my employees to memorize the Boy Scout law, but they understand the basic concept of treating people the way that you would want to be treated."
Employees also get a chance to see those values in practice every day. Despite its size, Sweetwater is a family-owned and -oriented business and Surack strives to ensure that every individual understands their importance and the value they contribute to the team's success.
"Everyone knows what our mission is—we talk about it often. No one in our company is any better or worse than anyone else—every job, every function is important," he says. "We all have the same dreams, fears and aspirations. We are a team. I'm here every day and involved in the day-to-day management." During the recent COVID-19 shutdown, for example, Sweetwater began experiencing skyrocketing sales volume similar to Black Friday and Cyber Monday as customers under stay-at-home orders had more time to work in their home studios or pick up a new hobby. Surack, his wife and 13-year-old daughter, along with members of the Sweetwater management team, spent weeks working 12- to 14-hour days in the warehouse helping to pack customers' orders. "My feet were killing me," he recalls, "but we're a family. We're all in this together."
To help foster the family-oriented environment, Sweetwater hosts numerous employee activities and events throughout the year, such as monthly concerts, tickets to all of the local sporting events, picnics, trips to local amusement parks. "We try to engage with all of our employees on a personal level, not just a business level," Surack says.
A Passionate and Highly Trained Workforce
As Surack points out, Sweetwater's sales model is not a typical transactional selling strategy focused on making a quick sale—it's a consultative approach designed to learn about each customer's specific needs, pain points and desires, and to help them get the most value out of their equipment. It's an experience that builds trust and long-term relationships.
Sales engineers are well-versed in how to conduct "the perfect conversation," which, Surack says, is also a key part of The Sweetwater Difference. He describes the perfect conversation: "Before we start quoting prices, we want to explain to the customer who we are, what we do and why we're the place to buy. And we want to learn from the customer what their dreams and aspirations are, and why they're calling us. We don't negotiate the price until the learning is done. I want to make sure that we're recommending the right product for each individual, not just the one that happens to be in stock."
It's an approach that requires a good deal of integrity and passion—key traits that Surack looks for in a job candidate. While most of Sweetwater sales engineers have a four-year music technology degree, more important than a job candidate's education or work experience is their passion and fit with the company's values. "I'm looking for a person who is always trustworthy, who has integrity and adds credibility to our company," he says. "I also want them to be alive and have a fire in the belly. I can't teach them passion."
Newly hired sales engineers undergo a robust 13-week training program comprised of 300 classes taught by 80 different instructors, including Surack and other members of the leadership team. One-third of new-hire classroom time is spent learning to use the company's sophisticated customer information system, which tracks customers' purchase history, music interests, types of instruments they play, types of venues where they play music, dreams, aspirations, etc.
New-hire training also focuses heavily on the products and music technology to ensure that sales engineers are knowledgeable about recent releases and advancements. Finally, new frontline employees spend considerable training time learning how to connect with customers, build relationships and how to create "the perfect conversation."
After classroom training is complete, Sweetwater provides ongoing education to help employees keep pace with rapid technological advances and product releases, and to understand how the wide variety of products from different manufacturers connect and interact. Sales engineers invest three hours a week, minimum, in training meetings. In addition, manufacturers hold frequent "lunch-and-learns" and special meetings to demonstrate new products and keep staff up to date on their equipment.
Surack points out that Sweetwater employees don't see continuing education as required training. "They do it on their own. It's a vocation as well as an application for them," he says. "We don't have to force them to learn about the products they're selling. They're musicians and professionals who love the gear and love talking about the music."
Secret Sauce: Relationships Add Value
Looking back on over four decades of growth, Surack is still amazed that the business he began in a VW bus now sells 60,000 products, supports a customer base of 5 million, and hit $805 million in sales last year. "I'm personally dumbfounded—I feel blessed and thankful every day," he says.
Surack credits the advent of the internet as key to making the tools, software and other technology more accessible, and affordable, for the average consumer. But while technology provides a platform for online giants like Amazon to amass large inventories of low-end, inexpensive products, Surack believes that it is the one-to-one relationships his team forms with customers that sets Sweetwater apart.
Indeed, the ability to guide customers through the complex ecosystem of music equipment, software and instruments provides the critical human touch that customers value. "When a customer has a question about how to use their Apple computer with Mark of the Unicorn software, an Avid interface and their Gibson guitar—you can't call Amazon and get that sort of consultative advice," Surack explains. "That's what our sales engineers do every day. If you want to know how to make it work with all the other equipment that you have, that is the added value that we provide. We are laser-focused on each and every customer."