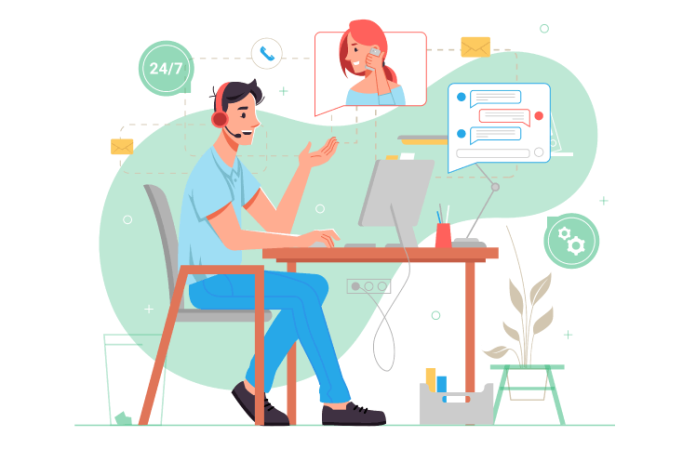 The past few years have been turbulent for the customer experience (CX) industry. It all started with the COVID-19 pandemic, which forced three million U.S. contact center employees to work from home in a matter of weeks.
For Fortune 500 contact centers, this historic development caused widespread impacts on operations, technology, commercial real estate, and work culture. CX leaders have been forced to rethink operations, embrace new technologies, and evolve the contact center experience to accommodate a growing work-from-home (WFH) agent workforce.
But despite overwhelming demand for multichannel, asynchronous support, companies are still trying to keep up with evolving customer demands while managing a remote or hybrid agent workforce, and all the complexities that brings with it.
Fortunately for agents, the shift to WFH has created a unique opportunity to voice their needs and desires. And for companies willing to listen, the solutions are promising.
This ongoing challenge comes as no surprise. CX companies have spent decades investing in technology that has been full of promise yet empty of results.
Now, we are at a crossroads with higher customer expectations, greater workforce demands, new technology innovation, and a need to deliver meaningful change in a sea of mediocrity.
And let's not forget about the agents, who sit at the intersection of the company and its customers. They do their best to help in a situation that is destined to fail on its current trajectory; high stress jobs, low wages, poor systems, and complex processes all make for a perfect storm of high attrition, low service quality, and continuous onboarding, training, and investment.
Fortunately for agents, the shift to WFH has created a unique opportunity to voice their needs and desires. And for companies willing to listen, the solutions are promising.
Seasoned customer-facing leaders know that every time an agent talks to a customer, it's a privilege and an opportunity to build a relationship, foster loyalty, and drive lifetime value.
Forward-thinking CX leaders are reframing the WFH situation into a unique opportunity to elevate the agents' role in the CX.
They are coming up with new ways to train and onboard agents, speeding up time to proficiency, and creating a more collaborative virtual environment from which they can continuously learn and improve.
These leaders are starting by listening to what agents want.
What Agents Want
In 2022, ASAPP polled 572 customer support, sales, and technical support agents about the shifting WFH and hybrid call center environment. The primary takeaway, published in our report, was their overwhelming desire to WFH full-time.
85% of agents want to WFH five days per week.
72% of agents currently WFH five days per week.
12% of agents currently work full-time at their workplace.
9% of agents work one to three days at their workplace.
Now that WFH has moved beyond the emergency procedures put in place in March 2020, contact centers can rethink operations to make people successful wherever they are working.
90% of agents want to see more aspects of calls automated.
44% of agents want automation for knowledge search.
36% of agents want automation for call summaries.
Technology plays a big role in supporting people in remote locations. Both contact center workers and customers demand modern ways of communicating. This requires investments in technologies that meet agents' and customers' expectations.
3% of agents believe the rate of technological advancement in contact centers is great.
50% of agents think that technology in the contact center is behind the times.
95% of customer interactions are still voice.
With some level of understanding of agent desires, companies can begin making shifts to gain momentum and continue making improvements.
Let's take a look at a few ways companies can start to create value by modernizing their agent tools, accelerating onboarding and training, and investing in automation to empower agents.
Modernize Agents' Tools
Contact center operations are constrained by layers of legacy technology based on a central operating principle—that contact center agents work from a common office location.
To support a more flexible workforce environment—one where agent assistance, quality assurance, coaching, onboarding, and training, and even employee incentives all require new models of operations—contact centers require more modern technology.
For the first time in the history of the CX industry, solutions are not mutually exclusive. Digital solutions can simultaneously assist agents to meet customers where they are, drive revenue growth, and deliver both a better customer and employee experience…and do so at lower costs.
We believe in supporting agents with automation that reduces their cognitive load, allows them to focus more on the customers they support, get more out of their job, stay longer, and be valued for the work they do.
With sophisticated artificial intelligence (AI)-powered modeling, agent tools get smarter with use. So as soon as agents get up and running, they feel more supported, and customers get better care.
90% of agents want to see more aspects of calls automated.
60% of agents who have been provided new technology designed to make their jobs easier call it helpful, and 46% found it easy to use.
30% of agents reported seeing one or more technology investments in the past year.
As contact center agents are trending younger, they expect to have modern software that matches today's working environment.
Because technology is the driver of productivity, it's critical that employees have software that draws high usage and employee satisfaction—ultimately delivering vastly improved agent and customer experiences.
Accelerate Onboarding and Continuous Training
The CX industry suffers one of the highest employee attrition rates of any industry, which drives significant recurring recruitment and training costs. Solving for a fast time to proficiency has become a critical measure for organizations where the average tenure can be less than one year.
Extending beyond initial onboarding, agents need ongoing training to continue learning and keep pace with new products and services. With more training, agents feel better equipped to successfully handle difficult customer interactions.
60% of agents with three-plus weeks of training felt well prepared for their first call.
45% of agents with two weeks or less felt less prepared for their first call.
Automate to Empower Agents
Automation plays a key role in any modern CX strategy. However, when a human is needed or you can't automate the interaction without compromising the experience, you should still use automation to help augment the agent and make them better at effectively supporting your customers.
Offering WFH and hybrid work environments creates an advantage for recruiting and retaining agents…
We believe automation should carry through across the entire interaction, with or without a human. Contact centers benefit by automating the least strategic and most repetitive functions of agents' roles to bring their most important skill to the forefront—helping customers.
Feedback shows that agents who experience automation want more automation and, overall, that AI will improve their efficiency on the job.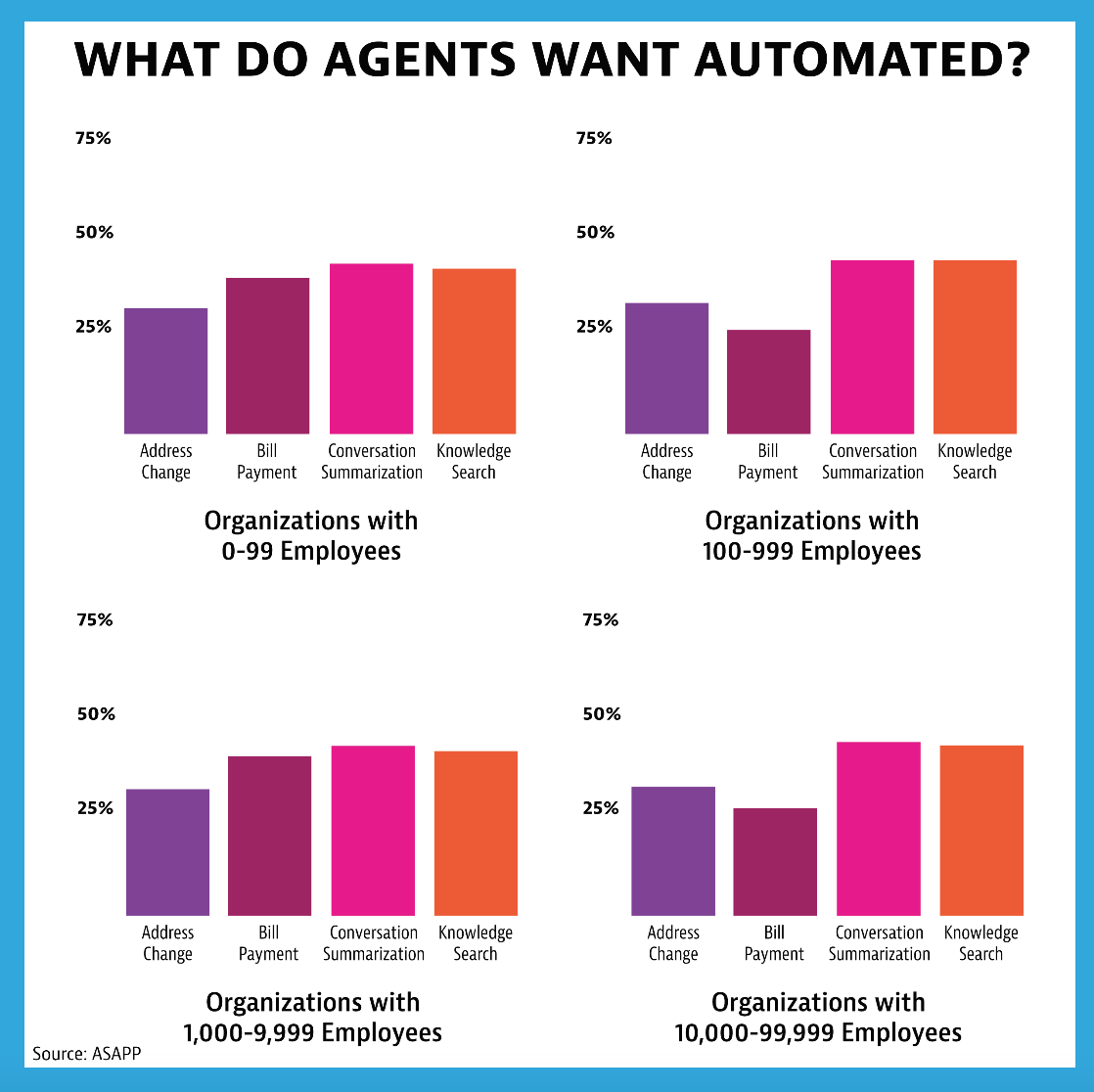 Conclusion
The last few years have been challenging for everyone but understanding what's happening in agents' lives can help companies better understand how to help and support their workforce.
Offering WFH and hybrid work environments creates an advantage for recruiting and retaining agents in an industry that suffers from extremely high turnover rates.
Faster home broadband, advancements in telephony, and AI reduce the cost and need to have employees under one roof, speed up time to proficiency, and help agents collaborate even when not under the same roof.
Contact centers that can accommodate agents WFH retain staff longer. Limiting agent talent to a commuting radius puts companies at a competitive disadvantage as the work shifts to remote.
The CX industry has entered a whole new era of investments in people, processes, and technology to compete, attract, and enable agents to WFH.
Now, more than ever, contact centers have the opportunity to change their operational approach to support a workforce that wants to WFH permanently and help agents deliver productive customer service.
Michael Lawder leads the Customer Experience team at
ASAPP
. A passionate customer advocate, he has deep experience in transforming great companies and brands into customer-first organizations that, in turn, deliver great customer experiences, build loyalty, and drive better business results.