I wasn't planning on ever sharing this information with anyone, but we're all friends here. Right?
According to my parents, when I was a little boy, I would start to cry anytime I heard the song, "The Ballad of Davy Crockett." It didn't have to be on TV or on the radio to have this effect. Even if my mother started humming the first few bars of the song I would, according to her, start sobbing.
The song "The Ballad of Davy Crockett" was written in 1954 and debuted on the television series "Disneyland" in support of its "Davy Crockett" miniseries. Disney fans know that, even to this day, "The Ballad of Davy Crockett" is a Disney mainstay, whether played in one of the many Disney theme parks or on the Disney TV channel.
I guess I'll never know what it was that made me cry whenever I heard that song. I think I was too young to remember, but looking back on it now, I'll bet it was that line in the first verse of the song. I mean, what could be more tragic than that? You know the line I mean.
Born on a mountain top in Tennessee
Greenest state in the land of the free
Raised in the woods so he knew ev'ry tree
Kilt in a bar when he was only three
Davy, Davy Crockett, king of the wild frontier
So who wouldn't get upset at the thought of a three-year-old getting killed in a bar?
OK, that wasn't really the line in the song. The line in the song is, Kilt him a be'are when he was only three. But the way the lyrics are sung on the record sure makes it sound like he was killed in a bar when he was only three. That phenomenon is referred to as a misheard lyric and the music world is full of them. The most famous one has got to be the line in the Jimmy Hendrix song, "Purple Haze" when he sings, S'cuse me while I kiss this guy. How about Creedence Clearwater's John Fogerty belting out, I wanna know, have you ever seen Lorraine? And one of my favorites is from the '60s British invasion Merseybeat band Herman's Hermits. Listen to their song, "She's a Must to Avoid" and tell me the first line doesn't sound like he's singing, She's a muscular boy.
Besides the wild west frontier of Davy Crockett, I think there's an equally exciting frontier now in the contact center industry. This frontier, however, offers much greater comforts than Davy Crockett's frontier. In fact, it has all the comforts of home.
Work-from-home (WFH) has become an exceptionally important trend in the global contact center industry. Here in the U.S., when the government's Centers for Disease Control (CDC) issued its guidelines for worker safety on March 12th, 2020, contact centers had to scramble to comply. Actions varied, but the majority of contact centers did their best.
WFH is not a new phenomenon in the contact center industry. I've written about it extensively, usually with assistance from Michele Rowan of Customer Contact Strategies, who I've always considered to be the industry authority on the subject. To be clear, at the beginning of 2020, 52% of North American contact centers already had some of their agents working from home. The qualifier here, though, was the percentage of their workforce working from home. It was generally 25% or less. All that changed in a matter of days, though, with the issuance of the CDC guidelines.
In September, we ran a brief survey with members of the not-for-profit National Association of Call Centers (NACC) to gauge their initial response to the CDC's worker safety guidelines and the industry response. The results are illustrated in Figure 1.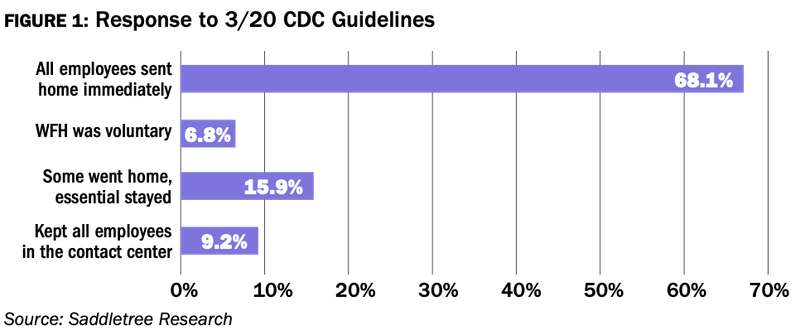 As the data indicates, over 90% of the North American contact center industry sent some or all of their workers home to work.
From a technology standpoint, the move to WFH was easier for some than others, and this was the subject of my September 2020 column in this magazine. Beyond the technology, however, the biggest challenge to emerge from the rapid shift to WFH is employee engagement, and that's no small matter.
In our January 2020 survey of contact center professionals, we asked our research participants how employee engagement ranked in their overall operational strategy for 2020. Their responses are shown in Figure 2.
Over 90% of the North American contact center industry ranked employee engagement as somewhat or highly important.
So, the challenge now becomes how to make the transition from brick-and-mortar contact center employee engagement to remote WFH employee engagement. How to make WFH employees feel connected to the contact center via transparent, objective, accurate performance measurement and management while ensuring a consistently high degree of customer service in a new and challenging environment. And do it all in a hurry.
According to Abby Monaco, Senior Product Marketing Manager at NICE Nexidia, "We have seen many of our clients handle this transition very well using our easy-to-deploy, AI-enabled cloud analytics solutions that provide visibility across the organization. Both real-time and post-interaction trending and monitoring help each role stay focused on critical goals such as maintaining customer satisfaction even while contact volumes are at an all-time high."
One of the major challenges of a WFH workforce, according to the results of our September 2020 research, is maintaining an effective quality management program with the majority of employees working from home. Once again, it is clear that the old brick-and-mortar ways will have to step aside in favor of the power of analytics.
"When considering frontline agents and their value as major influencers on customers' experiences, it is of increased value to provide work-at-home agents with real-time AI insights that can help them deliver extraordinary experiences on every single interaction, even as they work through the distractions of building a work-friendly environment in their homes," NICE Nexidia's Monaco continued. "Helpful real-time prompts can augment personalized coaching and quality programs' efforts to not only raise each agent's level of service, but also to bridge the visibility gap and help make each coaching session more effective no matter where each member of the process is located."
The new WFH contact center frontier is driving industry change at an unprecedented rate. The kind of innovative thinking we're witnessing in the industry today, such as combining proven management techniques with state-of-the-art AI-enabled technology solutions to optimize employee engagement and the customer experience, would have made frontiersmen like ol' Davy Crockett proud.
Needless to say, I've outgrown my youthful teary response to "The Ballad of Davy Crockett," but there are still songs that get to me. Abby reminded me of one when we were working on this article. It's another Creedence Clearwater John Fogerty classic, "Bad Moon Rising":
Don't go 'round tonight
It's bound to take your life
There's a bathroom on the right
---
The National Association of Call Centers
Did you know columnist Paul Stockford is also the editor of In-Queue, the monthly newsletter of the National Association of Call Centers? Get your free subscription and read more of his provocative commentary every month!
---