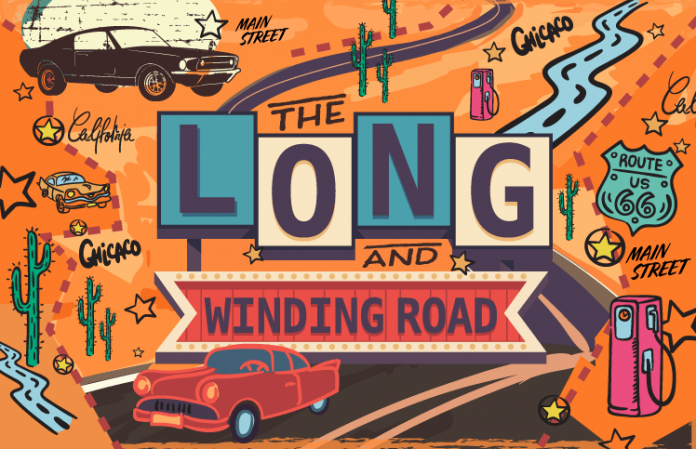 In August of 1970, American duo the Carpenters released their second studio album, which was called Close to You. The album contained the hit song and perennial wedding favorite, "We've Only Just Begun," and the song that provided the Carpenters with international musical fame, "(They Long to Be) Close to You."
In 2012, Rolling Stone magazine ranked the album at number 175 of its list of the 500 greatest albums of all time. "Close to You" earned The Carpenters a Grammy award for Best New Artist and another Grammy for Best Contemporary Vocal Performance by a Duo at the 13th annual Grammy awards in 1970.
PAUL: No eye-rolling please. I know the Carpenters had, and still have, a reputation for schlocky '70s pop music, but we all know that when Christmas rolls around, Karen Carpenter lives again! Her voice can be heard on every radio station playing Christmas music and, in the pre-pandemic era, echoing throughout every shopping mall in the country. But despite this seasonal popularity, I still believe the Carpenters were underrated as musicians, arrangers and performers.
ZACK: Paul, a couple of things about the Carpenters. First, Hal Blaine, the highly respected session drummer from The Wrecking Crew that worked with them said Karen Carpenter was a fine drummer, but her voice was truly one of a kind. If you ever find isolated tracks of her singing on YouTube, you can hear just how special her voice was.
Second, I am always wary of Beatles covers, but their version of "Ticket to Ride," sung like a ballad, is quite unique. And speaking of "Ticket to Ride," about 90% of contact center agents were given a ticket to ride home in 2020 at one point, according to Saddletree Research!
PAUL: I think "Close to You" could be the theme song for workforce engagement management (WEM) in the post-pandemic era. What the industry is dealing with now is about 10 years of WEM evolution squeezed into an 11-month period. Contact center executives not only had to find a way to get their workers home quickly and safely, they also had to figure out on-the-fly how to manage their new remote workforce. Despite the technological challenges of the work-from-home (WFH) workforce, I think the biggest challenges lie ahead, in the long-term management of the WFH workforce, and we know this is going to be a long-term challenge.
During the fourth quarter of last year, we asked members of the not-for-profit National Association of Call Centers (NACC) what their WFH plans were expected to be once the pandemic is over. Their responses are illustrated below.
ZACK: Paul, if I read the graph correctly, it looks as if upwards of 69% of contact center agents will return to the office in one form or another. Oddly enough, '69 was the same year that the Carpenters put out their first album! As we say in the industry, "so what, now what."
To me, it seems like the biggest need in managing a highly distributed contact center workforce is replicating and enhancing processes that formerly took place in person. No longer will managers be able to wander the floor and help agents in person, which is a huge challenge. Ironically, this means that communications processes will be more important than ever. Best practices include daily team meeting with leadership, leveraging video for 1:1 coaching sessions, and ensuring that agents can easily escalate when necessary via team messaging.
In addition, resource retention tends to go up in a work-at-home environment, however, companies need to keep on top of agent sentiment to ensure they have all the tools and processes in place to be successful. Tools that were formerly used for "voice of the customer" have been repurposed to assess "voice of then agent" to identify individual and group trends that may affect retention.
PAUL: I agree, Zack. 2021 is going to be all about workforce engagement management (WEM). I foresee a greater reliance on automation and analytics this year as contact center managers work toward moving the management processes you mentioned from the in-house to the remote and/or distributed workforce. Automation will prove to be as valuable a tool for agent assistance as it is proving to be for customer service. And analytics will support remote quality management by providing the type of agent performance data that was once exclusive to quality supervisors physically walking the floor.
ZACK: No doubt, Paul, and I'd like to add one more notion here. Contact centers have essentially evolved to a two-tiered environment. First is a layer of self-service automation which is being accelerated by AI and better natural language performance. More and more interactions are finding solutions via automation.
And second, what's left over has become the super-critical exceptions that can only be addressed by humans (albeit with AI assistance starting to show up). These exceptions represent corner cases beyond the reach of automation, and they often represent make or break propositions for the brand.
Contact center agents will need to have much better tools at their disposal to collaborate with the rest of the business value chain in order to address these outliers. This is especially important in a first-contact resolution based environment where getting it right the first time is the only option in in delivering a great customer experience. Because of this, look for many organizations to mature the relationship between the front and back office of their business be a modern collaboration tools such as screen sharing, team messaging and expertise finders. In this regard, businesses can end up on "Top of the World" by creating a new dynamic enterprise with the contact center as the front door—and one which WEM plays a critical role.
---
The National Association of Call Centers
Did you know columnist Paul Stockford is also the editor of In-Queue, the monthly newsletter of the National Association of Call Centers? Get your free subscription and read more of his provocative commentary every month!
---
Paul Stockford is the President and Chief Analyst at
Saddletree Research
. Based in Scottsdale, Ariz., Saddletree Research provides focused communications industry research, including analysis of market trends, issues, technologies and companies in the contact center industry with special emphasis on emerging technologies and developing markets.
A 31-year industry veteran, Paul has authored articles on telecommunications, contact centers and customer service for several major industry journals in the U.S. and Europe. He currently authors the monthly "View from the Saddle" column in
Contact Center Pipeline
magazine. He is widely quoted in business and general interest periodicals, and has held positions on the Editorial Advisory Boards of several magazines in the U.S. and Europe. Paul is Research Director of the 501(c)(6) not-for-profit
National Association of Call Centers
(NACC), which provides Saddletree Research with access to over 15,000 end-users as the basis for research that is published in several reports and briefs each year. In 2010 Paul was elected to the NACC's Board of Directors.
Zack Taylor is the Director of Strategic Communications for
Cisco's
Contact Center Business unit located in Iselin, N.J. In this role, he is responsible for planning, development and communication the unit's business-relevant solutions to key internal and external constituents. Prior accountabilities include roles in AT&T's Sales Channel, where he was a Global Account Manager in the Financial Services and Banking Industry and Integrated Solutions Organizations. He was a founding member of Avaya's Global Strategic Solutions team and also the General Manager for Avaya's Contact Center portfolio.
Zack is a featured
Cisco blogger
and a published author on numerous call center technologies. He has appeared on National Public Radio discussing the value of technology in supporting customer relationships, and is a frequent speaker in the call center and collaboration marketplace at industry and customer events. Zack currently has authored seven approved and two pending U.S. patents and four European patents on call center innovations. He is a Satmetrix-certified Net Promoter® practitioner and a Certified Customer Experience Professional (CCXP).