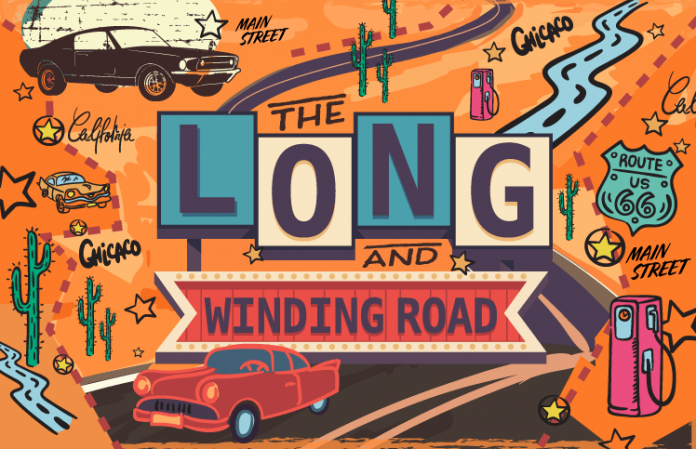 In 1978, the band REO Speedwagon released its seventh studio album. Called You Can Tune a Piano, but You Can't Tuna Fish, it was REO's first album to crack the Top 40, reaching number 29 and selling over 2 million copies in the U.S. The first song on the first side of the album is called "Roll with the Changes," and we couldn't think of a more appropriate title to describe what's happening in the contact center industry today.
PAUL: The song, "Roll with the Changes" was written by REO lead singer Kevin Cronin, who literally wrote the lyrics on the back of a paper sack while he was driving around Los Angeles in his Ford Pinto. He had just relocated from Chicago and was thinking about all the changes in his life and how he had to roll with them.
I think that kind of describes what's happening in the contact center industry now. The changes that the industry is having to roll with as a result of the COVID-19 pandemic are unstoppable, but I wonder how many of them will be changes that are here to stay or if the industry will try to roll with the changes now, but go back to the way it was pre-pandemic when this health crisis is over.
ZACK: Paul, it is very appropriate that you picked one of the very best rock anthems to begin our series together. My favorite version of this song is from Live Aid in 1985 when members of the Beach Boys including Mike Love sang backup vocals on the song. REO often ends their concerts with this song, and it's easy to understand why!
As it relates to "rolling with changes" in the world of contact center, the real big decision front and center these days will be the long-term effect of work-at-home associated with the 2020 pandemic. Estimates show that at least 70% or more of the world's 18 million contact center agents are now working remotely, up from 15% prior. There are numerous examples of companies quickly moving large numbers contact center agents home, sometimes in the thousands, to accommodate the new reality.
What has always been fascinating about work-at-home agents is that typically all contact center performance measurements improve when agents work at home. Because contact center performance is so critical, I've often wondered why there wasn't more of this highly distributed workforce model in place prior to March 2020. Furthermore, modern collaboration tools and cloud technology allow supervisor-to-agent communications and coaching to occur almost as effective as in the office, and agents feel like they are not isolated even if they are working from a distance. My guess? More than half of the agents that went home will stay there.
PAUL: I think that's a good guess, Zack, and I've got some data to back that up. I'll go find it right after I go to Youtube and watch the video of REO at Live Aid in '85!
The research that Saddletree Research conducted with the not-for-profit National Association of Call Centers (NACC) during the first quarter of 2020, which concluded before the pandemic hit, revealed that 52% of North American contact centers already had work-from-home (WFH) agents at the beginning of the year. The big qualifier here, though, was the percent of their workforce that was WFH. The majority of these contact centers—69%—have less than 25% of their workforce working from home. But that sure changed in a hurry!
I agree with you, Zack, that more than half of the agents that went home will stay there. I've got some data in that regard, too. As part of our research, we asked those contact centers that had agents at home at the beginning of the year what their WFH plans were for the rest of 2020. The answers are illustrated in the figure below.
With 50% of research participants indicating that they would increase their number of WFH agents in 2020, we can conclude that this is a strong indicator of the level of satisfaction these executives feel regarding their at-home workforce. Kind of prophetic, don't you think?
ZACK: Paul, absolutely—I always appreciate how you are able to support assertions with actual research. The significant increase in WFH agents has reached unprecedented levels, and the likelihood that those levels will remain so makes perfect sense to me.
I would also assert that there will be a second round of inspection occurring into the WFH models deployed, whereby businesses will move from response to optimization. It's one matter to physically get people home, it's another matter to ensure they are supported by the best tools, insights and processes possible. Perhaps we could say businesses that have "Rolled With the Changes" will "Ride the Storm Out" and therefore find "Time for me to Fly!"
Read the first post in this series: The Long and Winding Road.
Paul Stockford is the President and Chief Analyst at
Saddletree Research
. Based in Scottsdale, Ariz., Saddletree Research provides focused communications industry research, including analysis of market trends, issues, technologies and companies in the contact center industry with special emphasis on emerging technologies and developing markets.
A 31-year industry veteran, Paul has authored articles on telecommunications, contact centers and customer service for several major industry journals in the U.S. and Europe. He currently authors the monthly "View from the Saddle" column in
Contact Center Pipeline
magazine. He is widely quoted in business and general interest periodicals, and has held positions on the Editorial Advisory Boards of several magazines in the U.S. and Europe. Paul is Research Director of the 501(c)(6) not-for-profit
National Association of Call Centers
(NACC), which provides Saddletree Research with access to over 15,000 end-users as the basis for research that is published in several reports and briefs each year. In 2010 Paul was elected to the NACC's Board of Directors.
Zack Taylor is the Director of Strategic Communications for
Cisco's
Contact Center Business unit located in Iselin, N.J. In this role, he is responsible for planning, development and communication the unit's business-relevant solutions to key internal and external constituents. Prior accountabilities include roles in AT&T's Sales Channel, where he was a Global Account Manager in the Financial Services and Banking Industry and Integrated Solutions Organizations. He was a founding member of Avaya's Global Strategic Solutions team and also the General Manager for Avaya's Contact Center portfolio.
Zack is a featured
Cisco blogger
and a published author on numerous call center technologies. He has appeared on National Public Radio discussing the value of technology in supporting customer relationships, and is a frequent speaker in the call center and collaboration marketplace at industry and customer events. Zack currently has authored seven approved and two pending U.S. patents and four European patents on call center innovations. He is a Satmetrix-certified Net Promoter® practitioner and a Certified Customer Experience Professional (CCXP).