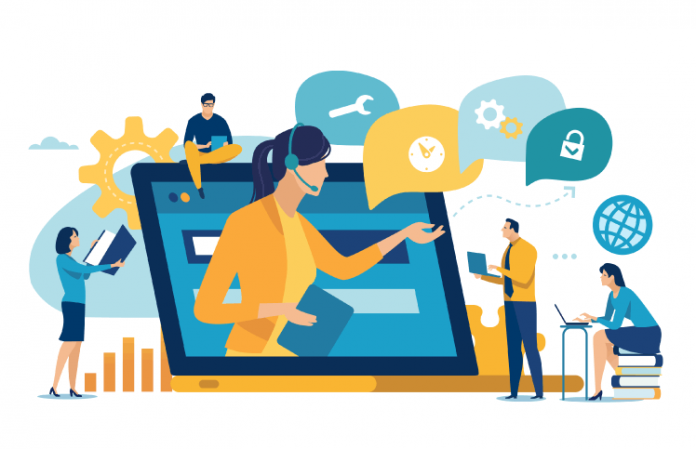 Today, brands must differentiate the experience they provide their customers or risk losing them to competitors.
One way to achieve this level of differentiation is through digital self-service experiences, which empower customers to get answers to questions and complete transactions without having to engage a contact center agent.
Use cases can include banking customers who need to reset their passwords, retail customers who are looking for exchanging and tracking shipping details, or utilities customers who need to pay their bills.
The possibilities are nearly endless, but ultimately digital self-service solutions are available anytime to offer personalized and dependable resolutions to customer needs.
Digital Investments Are Good for Customers, Businesses
For several years, consumer expectations have been evolving as we move our lives online with greater frequency and for more reasons. When those heightened expectations collided with the COVID-19 pandemic, adoption of digital technologies accelerated faster than many had imagined.
In fact, a recent survey conducted by OnePoll found that 58% of consumers will continue to have more digital interactions than pre-pandemic after being impressed by the swift, convenient issue resolution they experienced in digital channels.
The way we all shop, bank, and book travel has fundamentally changed.
Consider, for example, how contactless payment options and new types of shopping experiences (i.e., buy online, pick up in store) – and even how many traditional customer service tasks can now be automated – have transformed the customer journey. The way we all shop, bank, and book travel has fundamentally changed.
Today, a majority of consumers report that they have used online self-service options, and artificial intelligence (AI)-powered chatbots continue to increase in popularity as a preferred customer service channel.
These changes seem to be sticking around for the long haul, making it increasingly important that contact centers invest in technologies and solutions that enable a seamless online experience. One that's not just good for the consumer, but also for the business.
Gartner research recently showed that investments in customer experience and digital self-service technologies have become a top priority for organizations. It wrote specifically: ". . . most customer service leaders we surveyed view investments in analytics as an investment in improving their self-service capabilities."
As customers continue to demand self-service capabilities as they conduct tasks online, it's increasingly important that contact centers invest in tools that enable these seamless online experiences for customers while simultaneously driving business value for the organization.
To help uncover the true business value of digital self-service customer experiences (CX), we will cover three best practices for taking advantage of conversational AI solutions throughout the customer journey.
Best practice #1: Automate routine questions to improve customer and agent satisfaction
AI-powered chatbots and digital messaging platforms have emerged as an ideal solution for engaging customers in ways that put them in control of their conversations with your brand.
The retail industry, for example, has been one of the earliest adopters of AI-powered solutions, due in large part to the broad range of applicable use cases.
Self-service chatbots, as one leading example, can answer consumers' most common questions and/ or resolve issues automatically, alleviating much of the burden on contact center agents.
…customers don't need to wait in the queue during times of high contact volumes.
With a conversational AI solution such as a virtual assistant or chatbot on board, contact centers can automate many customer self-service options that get them the answers they need quickly.
For example, an airline might take advantage of an AI-powered chatbot to communicate flight changes automatically and proactively via messaging, text, and email channels.
These solutions can even help agents quickly and automatically answer the repetitive questions that, while valuable for customers, can be draining for agents.
Because all of this can happen automatically, customers don't need to wait in the queue during times of high contact volumes. Instead of seeing or hearing, "your estimated wait time is 17 minutes," they are seamlessly directed to self-service options to effectively answer their questions.
These intelligent systems not only help to improve the CX and streamline the more frequent interactions, but they also ease the workloads on contact center agents. That is, customer self-service options mean contact centers can handle growing contact volumes across all channels with ease, freeing time to help customers in need for live interactions.
Best practice #2: Boost agent efficiency and reduce average handle time by enabling seamless, contextual transfers to live chat
While many common customer interactions can be handled automatically by conversational AI solutions, there are many that need a personal touch, especially when those requests are more appropriate for a live interaction.
For customers frustrated by lost or delayed packages, having a live agent handle these interactions may be the right approach to meeting and exceeding expectations as it demonstrates a level of care and concern. But it is only made possible because the automated system reduces the agent workload.
Let's say a customer engages the virtual assistant to pay their most recent electricity bill. They find, however, that account balance shown is either higher than expected or does not match what they're able to pay.
Instead of simply linking the customer to an explanation for bill details or a list of reasons why a bill may be high, the AI solution recognizes when it's time to seamlessly transfer the customer to a live chat with an agent who can help. Better still, the agent receives all the essential customer details to keep the conversation in context.
In all cases, the conversational AI solutions keep the customer in control of their journey, which is where most people prefer to be.
When people are empowered to solve problems on their own, in their preferred channel, and engage a helpful live agent when needed, contact centers can reap a range of benefits.
Whether it's increased customer and employee satisfaction scores, automated first contact resolution (FCR), or improved cart conversions, conversational AI delivers real-world outcomes to help navigate and weather any industry challenge.
Best practice #3: Use agent-facing AI to guide contact center staff through interactions – and boost training, too
To complement customer interactions, agent-facing AI helps deliver faster, more effective service with a range of real-time support.
For example, agent-facing AI can monitor a live interaction and serve up next-best-action coaching that helps resolve inquiries more quickly while also providing agents with real-time intelligence that reduces manual effort.
…agent-facing AI is ideal for uncovering training and improvement opportunities…
Just like having a coach on the sidelines during a game, an AI-powered "coach" makes it easier for agents to successfully answer customers' questions, offer upsell opportunities, and efficiently move to the next interaction.
And once the interaction concludes, agent-facing AI is ideal for uncovering training and improvement opportunities to continuously optimize individual agent efficiency. It improves productivity for all agents, as well as customer satisfaction.
Create Delightful Experiences with AI-Powered Digital Self Service Experiences
At the end of the day, companies are under more pressure to meet consumers' expectations for digital self-service options, so they're rolling out a range of technologies and solutions in order to create those delightful, profitable, and confidence-building experiences.
When combined with analytics that deliver timely, relevant insights – including information from third-party systems –brands can uncover the true business value of their investment in AI-powered self-service solutions.
Transparency into consumer needs and trends, as well as visibility into both self-service and human-assisted interactions, give brands the insights they need to optimize customer journeys, identify areas for improvement, and increase conversion and FCR rates.
Tony Lorentzen is Senior Vice President and General Manager of Intelligence Engagement at
Nuance Communications
. With over 25 years of experience in the technology sector, Tony is a proven leader in working with the cross-functional teams, blending his in-depth knowledge of business management, technology and vertical domain expertise to bring Nuance's solutions to the Enterprise market and partnering with customers to ensure implementations drive true ROI.