This past year's holiday shopping season and ensuing post-holiday calls to customer service were among the most challenging that contact centers have ever endured.
A recent Gallup poll showed that 60% of shoppers were unable to get a product because of the supply chain shortage—an issue that usually ended up with customers speaking with contact center agents.
Having the right strategy will be key for contact centers, which, prompted by the COVID-19 pandemic, have scrambled to provide remote work solutions for agents that are easy to deploy with proper security built in.
Realizing that remote work is here to stay in this new normal, leading contact centers today are finally implementing long-term, scalable, and sustainable strategies to help these agents handle the groundswell of calls and cases they will see throughout this year and in subsequent years.
IT Teams Have New Challenges
Contact center agents are often the first points of contact for customers. And if agents can't access their workstations and apps to communicate effectively, it will affect their ability to handle those calls and cases, which will, in turn, negatively impact their customer retention and satisfaction scores.
In this new normal landscape, contact centers and their IT teams are also faced with the heavy burden of enabling these agents to work effectively. IT teams especially are overworked with fewer internal resources.
Thankfully there are new solutions that are helping with the necessary deployments. These tools help IT teams with important functions that:
Help existing agents access the critical apps they need to get their work done.
Provide access to customer data and corporate systems and ensure that the data passing over the internet is protected.
Ship pre-configured devices to new agents' homes and make it easy for them to sign on and get started helping customers.
DaaS a Competitive Differentiator
Desktop-as-a-service (DaaS), also known as desktop virtualization, is software that acts as a permeable wall between the device hardware, the tools it needs to operate, and the applications that run on top of it.
DaaS is typically used in conjunction with application virtualization, which is technology that allows users to access and use applications from separate computers (which can include a tablet or even a smartphone) than the ones on which the applications are installed.
DaaS emerged to meet the agents' and ultimately the customers' needs as well as the IT teams' challenges. It is effective for contact centers because it securely delivers virtual apps and desktops from the cloud to any device.
DaaS allows the contact center's IT team to deliver all the applications, files, and tools that the agents need in a virtual environment. Regardless of where they work or what device they use. With a predictable pay-as-you-go subscription model, DaaS makes it easy to scale up or down on-demand.
By using application virtualization software, IT administrators can set up remote applications on servers and deliver the apps to the agents' devices. For the agents, the experience of the virtualized app is the same as using the installed app on a physical machine.
Organizations that demonstrated the most resiliency when they transitioned from on-premise to remote contact centers leveraged virtual apps and DaaS solutions.
These solutions being deployed by leading contact centers are built around secure, virtual apps and DaaS solutions that are designed for any device and which can run over any network—perfect for remote agents.
Another key attribute of DaaS solutions is that they can be easily and seamlessly provisioned to tens or thousands of users, removing a heavy burden from IT teams.
But no matter how they're deployed, apps and desktops act just like they would if they were running on employees' actual PCs. They also look the same whether they're being accessed from Windows, Mac, or mobile devices.
Leading DaaS solutions ensure that agents get the best virtual app and desktop experience possible, with flawless voice and video as well as pixel-perfect graphics and imagery, even in the presence of packet loss and high-latency.
These experiences are highly imperative for agents today who need to deliver clear responses to customers in often high-pressure, time-sensitive situations.
And with agents using virtualized hard-drive-free battery-fitted laptops they can stay connected, even if the power goes down but they are able to access cell networks like through hotspots. And without hard drives the batteries last longer.
Leading Reasons Driving DaaS Migration
Contact centers are benefitting from secure DaaS solutions for three primary reasons:
1. Simplified IT management. Administrative actions can be pushed to thousands of devices within minutes. They include delivering enterprise apps, updating security policies, and remotely wiping devices.
Also, a zero-touch enrollment feature in DaaS enables contact centers to rapidly scale operations by simply shipping devices directly to agents and configuring credentials from integrated cloud management consoles.
2. Protect customer data. DaaS provides contact center IT teams with the confidence of knowing their data and devices are always safe from threats.
These providers ensure that applications and data are stored in the cloud and are then securely accessed over devices. It's important to work with the right DaaS provider that offers an additional layer of security against internet-based threats to help protect agents and customer data.
3. Integrate and validate with lower risk. Trusted contact center partners are working to ensure IT teams can rapidly deploy a validated end-to-end software and hardware solution that delivers the best experience for agents.
These partners are constantly validating new apps, endpoints, and peripherals to ensure contact centers continue to have the maximum choice of validated solutions.
By leveraging secure DaaS technologies with integrated and cloud-managed devices, contact centers' agents can work productively from anywhere, and improve their customer satisfaction and call resolution metrics.
Leading DaaS solutions today are designed to help agents offer success support. They do so by providing strong product integrations that enhance audio and video passthrough, advanced security with built-in protection at the endpoint and in the cloud, and the ability to support any workload, from SaaS to legacy enterprise apps.
Leading Bank Leverages DaaS for Remote Agents
One of today's largest banks never imagined that its contact centers would shift to remote working, especially in a matter of days.
However, when it became clear that the COVID-19 pandemic would disrupt normal business operations, one of their first thoughts was to keep their employees safe and at home.
So, with just a couple of weeks to convert bustling, fully-staffed contact centers to a remote team around the world, the bank deployed a Citrix DaaS solution with Chrome OS devices because it was easy and fast to deploy and manage.
The bank's contact center teams in the United States, India, and the Philippines were able to log in to their dedicated customer-service applications through Citrix DaaS solutions.
Combined with Chrome OS devices, the joint Citrix and Google solution provided employees with the flexibility and security to access the bank's business applications remotely.
With low-cost devices, quick, zero-touch provisioning from the cloud, and all customer data stored securely off the devices themselves, this financial institution was able to implement a strategic, long-term technology strategy that could work seamlessly in both office and remote work environments.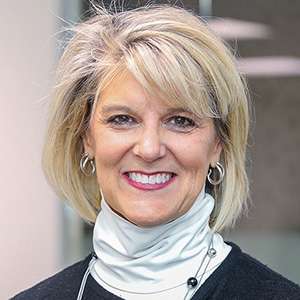 Michelle Senecal de Fonseca
is Vice President, Global Cloud Innovation Strategic Partnerships at Citrix, and
Scott Porter
is Managing Director, Chrome Enterprise at Google.
Citrix DaaS solutions on Chrome OS
provides organizations' employees with one-click, secure access to any type of app or virtual desktop, maximizing productivity without compromising security.