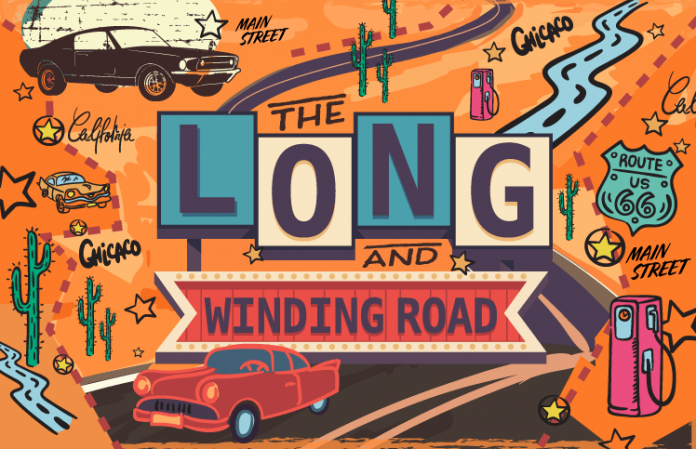 We are living in the future
I'll tell you how I know
I read it in the paper
Fifteen years ago.
John Prine wrote these prophetic lyrics back in 1980. In an interview shortly thereafter, Prine said it took him seven years to write those lyrics prior to releasing the song, "We Are Living in the Future." By the time he finished the song, he really was living in the future!
John Prine was a singer/songwriter who often relied on a humorous style of music to make a point or get his message across, although some of the songs he wrote and performed, such as "Hello in There" and "Sam Stone" could only be described as melancholy. He was a unique and memorable musician and performer, and one of the most influential singer/songwriters of his generation. Unfortunately, he was also one of the early victims of COVID-19 and passed away at the age of 73 on April 7, 2020.
In his autobiography, Johnny Cash wrote that he doesn't listen to music much unless he's going into songwriting mode and looking for inspiration. When that happens, he said he'll put on music by the "Big Four" writers he most admires – Rodney Crowell, Guy Clark, John Prine, and Steve Goodman. Before his passing, Prine also mentored many of today's younger artists including Sturgill Simpson, Jason Isbell, Kacey Musgraves, and Margo Price.
PAUL: I chose "We Are Living in the Future" as the song to inspire this edition of The Long and Winding Road because I think the title aptly describes exactly what has happened in the contact center industry over the past 18 months or so. The COVID pandemic pretty much forced the industry to undergo a decade of evolution in the period of about a year. The contact center industry we see today is very different from the contact center industry of 2019.
Some of the changes of the past 18 months have been obvious and have been adequately discussed. I'm referring to such changes as the work-from-home (WFH) workforce and accelerated cloud migration. Other changes, however, have been much more subtle but are clear indicators of the way the industry has changed, and perhaps the way it may go in the future.
ZACK: I used to have a friend when asked what he would want if he had only one wish and said "Tomorrow's newspaper today!" I agree Paul that not only did we get tomorrow's contact center news "today," we got next year's and the year's after news in just 12 months. Trends we expected to see happen over time occurred in rapid fashion. Of course the more obvious was work at home, with significant contact center resources still at their residences nearing the end of 2021. But others we observed were just as significant – especially the rise in mobile, digital, and automated interactions accelerated by contact centers overwhelmed with voice traffic. Companies leaned into expanding these avenues of engagement, and their customers benefitted.
PAUL: Exactly right, Zack. One of the biggest surprises for me was just how fast the industry adopted digital channels for customer communications over the past 18 months. One of the questions we asked in our 2021 survey of contact center professionals had to do with volume fluctuations during the pandemic period and how they compared to 2019. The results are shown in the graph below.
Over half the industry reported an increase in customer contacts in 2020, which makes sense given the fact that most of us were housebound and quarantined for the better part of the year so a visit to any customer service desk in person was almost impossible. Not surprisingly, the majority of these increased customer contacts, 73 percent, came via inbound telephone. But what was surprising was the customer contact channels that saw the greatest adoption by the industry during the year. These channels are specified in the graph below.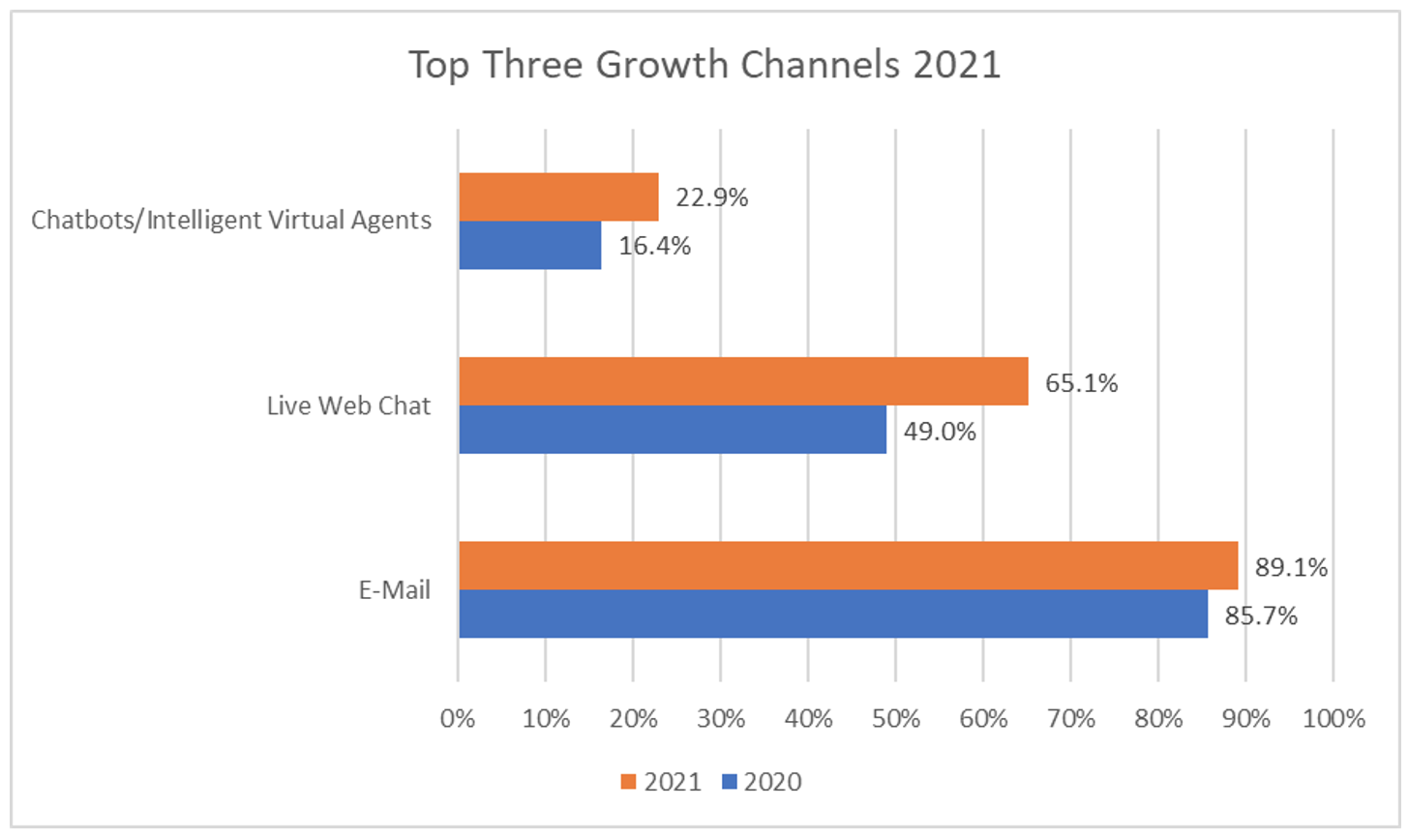 It appears that digital channels ruled when it came to growth in contact center deployment in 2021. Of course, we assumed that this was coming given the increasing influence of Millennials and Generation Z'ers, their growing consumer power, and their preference for mobile and digital communications. But we didn't foresee it happening this fast. All of a sudden, we are living in the future!
ZACK: Paul, always appreciate how you have fact-based research that back up your assertions. Just by reading the tweets of consumers during 2021 (and even some of your analyst peers), I could sense the frustration that was accumulating as companies initially struggled to overcome the sheer volume of customer demand. Your research absolutely affirms why. More than half of all business were faced with large increases in contact demand in very short order.
The good news is that these challenges acted as a forcing function for businesses to respond. Many were considering up leveling their automation capabilities already, which has been a constant dynamic in contact center operations for decades – but not at this magnitude and need for speed. What companies learned is that it was much more effective and agile to automate a process (if done well), than to hire a new headcount. Contact center agents minimally need 8-10 weeks of training to be effective, and that amount of ramp time was just not feasible. Hats off to companies that deployed chat bots, scheduled call back application, and proactive touch via consumer-friendly messaging channels. They are thriving as the initial challenges have subsided.
As John Prine once said, he had an "all night blue. . ." and in 2021, initially many consumers also did as they contacted their suppliers. But the last line of "Living in the Future" surely applies to how businesses responded in 2021 – "we'll give them what they want to see . . ." and leading providers of great experiences did exactly that.
Paul Stockford is the President and Chief Analyst at
Saddletree Research
. Based in Scottsdale, Ariz., Saddletree Research provides focused communications industry research, including analysis of market trends, issues, technologies and companies in the contact center industry with special emphasis on emerging technologies and developing markets.
A 31-year industry veteran, Paul has authored articles on telecommunications, contact centers and customer service for several major industry journals in the U.S. and Europe. He currently authors the monthly "View from the Saddle" column in
Contact Center Pipeline
magazine. He is widely quoted in business and general interest periodicals, and has held positions on the Editorial Advisory Boards of several magazines in the U.S. and Europe. Paul is Research Director of the 501(c)(6) not-for-profit
National Association of Call Centers
(NACC), which provides Saddletree Research with access to over 15,000 end-users as the basis for research that is published in several reports and briefs each year. In 2010 Paul was elected to the NACC's Board of Directors.
Zack Taylor is the Director of Strategic Communications for
Cisco's
Contact Center Business unit located in Iselin, N.J. In this role, he is responsible for planning, development and communication the unit's business-relevant solutions to key internal and external constituents. Prior accountabilities include roles in AT&T's Sales Channel, where he was a Global Account Manager in the Financial Services and Banking Industry and Integrated Solutions Organizations. He was a founding member of Avaya's Global Strategic Solutions team and also the General Manager for Avaya's Contact Center portfolio.
Zack is a featured
Cisco blogger
and a published author on numerous call center technologies. He has appeared on National Public Radio discussing the value of technology in supporting customer relationships, and is a frequent speaker in the call center and collaboration marketplace at industry and customer events. Zack currently has authored seven approved and two pending U.S. patents and four European patents on call center innovations. He is a Satmetrix-certified Net Promoter® practitioner and a Certified Customer Experience Professional (CCXP).