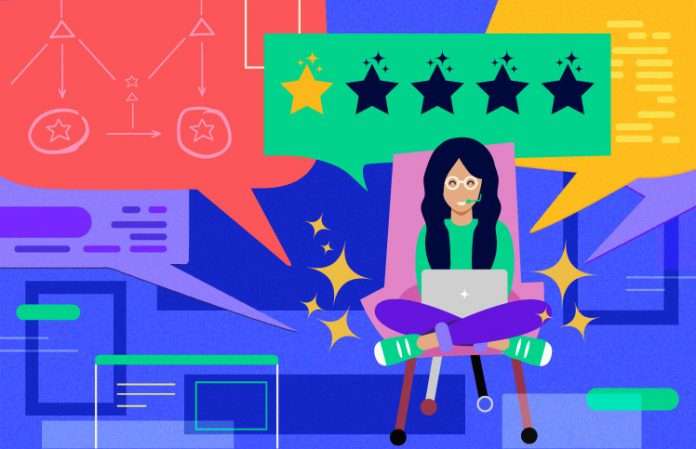 Sometimes social media feels like the mean kids' table in the lunchroom at middle school. Everybody's talking dirt about someone else. And once the gossip is out there, it's hard to get your reputation back!
Wretched customer service! Stylist was running 30 minutes late. When I went to put more money in the meter, they let the person with the next appointment go ahead of me. Avoid this salon. They don't care about their customers!
Ratings and reviews sites like Yelp, Google Reviews and OpenTable may be the most gossipy places in all of social media. There, customers tell detailed stories—sometimes embellished or exaggerated for attention—about how they interacted with your company, whether your product thrilled or disappointed them, and why their overall experience with your company was one they'd repeat… or not.
Online reviews matter because they shape how consumers shop and spend. BrightLocal's 2019 Local Consumer Review Survey found that 82% of consumers read online reviews for local businesses, with 52% of 18- to 54-year-olds saying they "always" read reviews. The survey also found that consumers who read online reviews care whether the company responded. Among consumers who read reviews, a whopping 97% read businesses' responses to reviews. Whether your company sells locally or internationally, you can assume that people read ratings and reviews to help them decide whether to spend their money with you.
While customer care organizations have tons of experience responding to unhappy customers by phone, email, chat and social channels such as Twitter or Facebook, many are just coming around to responding to ratings and reviews. After all, when a customer one-stars your company on Amazon, it can feel like the complaint is happening in an alternate universe. It's easy to think, "If that angry customer really wanted my attention, they'd have surfed over to our Contact Us page and chosen a channel there." But that's just not true. When you get a one-star rating on any retail site or review platform, the customer isn't just talking ABOUT you. Customers who give you poor ratings and reviews are, in fact, talking right TO you.
So how should you write a response to a customer's harsh review? Here are five tips for crafting a thoughtful response to a low rating so you can rescue the business relationship with that individual customer and with all the other prospective customers who read the review.
1. Apologize sincerely for the poor experience.
Customer John wrote a negative review of ABC Closet Installers because his appointment was canceled at the last minute, and he feels like the business doesn't value his time.
I set up an appointment for May 2nd at 6PM. ABC Closet Installers confirmed the appointment days prior, so I took a half-day off work to meet with them. But then I got a call from them at 4:30 pm on May 2nd telling me the designer is sick and they needed to reschedule. I lost a half-day of work for this appointment and it didn't even happen! They don't value my time, so I will find a competitor who does.
Certainly, the folks at ABC Closet Installers will be tempted to defend themselves when they read John's remarks. After all, sometimes people get sick! However, defensiveness really backfires in a response to a poor review. Instead, the company should sincerely apologize for the customer's poor experience.
Hello John. We're so sorry our designer wasn't able to meet with you on May 2nd as planned and that we couldn't let you know about this before you left work…
2. Offer to solve the customer's problem with a replacement, a refund or special-access customer service.
If a customer gives your product a one-star review, offer to replace it or refund it just like you would if that customer called you or chatted with you. Making this offer publicly shows that your company stands by its products.
You can also offer special-access customer service when an unhappy customer is expressing unhappiness in front of the whole world. Here's how Jason, the customer care rep at ABC Closet Installers, replied to customer John. In addition to an expedited appointment time, Jason offered John his direct phone number and email.
Hello John. We're so sorry our designer wasn't able to meet with you on May 2nd, as planned, and that we couldn't let you know about this before you left work. We'd like to expedite another appointment with our designer at your convenience. To book an appointment, please contact me directly at 888-111-2345, ext 678, or [email protected] as soon as possible…
3. Suggest a different product.
Now, this requires diplomacy. A person who's unhappy with what they've already bought—and paid for—may be in no mood to learn what they should have bought. But if another product is available, and the original product can be returned or even gifted to a friend, consider suggesting another product.
Here's customer Sharon's one-star rating and scathing review of swim safety equipment she bought for her daughter:
Do NOT buy the ABC Super Safe Life Vest for Toddlers. My 2-year-old hated the "floaty" things on her upper arms and she refused to wear it. It's a waste of money.
And here's how the manufacturer of the Super Safe Life Vest suggested another product in their response:
Hi, Sharon. I'm sorry to learn your daughter didn't like the way the Super Safe Life Vest felt on her arms. Have you considered Fabric SwimShirt Life Vest instead? Because it feels more like a shirt, some children like it better…
4. Write a personal response, not a generic one.
If you write an impersonal response like, "Dear Valued Customer, Thank you for your feedback. We apologize for the poor experience…" you're going to end up with bad reviews of your responses to bad reviews, and no one wants that!
Here's how you can personalize your response:
Use the customer's name, if provided. Also have your reps use their first names or an alias.
Reuse the customer's own words. If the customer gave your company's fleece-lined jacket a one-star rating because she found the lining to be itchy at the neck and wrists, use the word itchy in your response. You'll demonstrate that you've actually read the review. You'll show you're a real person who cares.
Avoid using broad nouns like feedback, situation, issue, experience or product. Instead, write your feedback on our waterproof mascara, the situation you encountered in our Highland Mall store, your experience with our subscription service, our Organic Liquid Soap (not our product).
5. Express empathy.
You're not obliged to agree with an angry customer's one-star opinion of your company, but as a customer service professional, you are obliged to try to see the situation from the customer's point of view. That's empathy. And when you express empathy at a ratings and reviews site—which can be considered one of customer service's toughest neighborhoods—you'll impress the customer you empathized with and all the others who read your response.
Here's customer Penny's one-star review of Super Bright Gel Nail Polish:
I hate this product. I love the colors and I prep my nails carefully, but I've never been able to keep Super Bright polish on my nails for more than two days without chipping. It's going in the trash.
Your empathy statement shouldn't throw your company or the product under the bus. You're not going to agree that the nail polish chips easily or that it belongs in the trash. But here are two safe empathy statements you could include in your response:
I can understand why you want the Super Bright manicure to last longer than two days.
I agree. All that prep can take time, so once you're done, you want the polish to last.
Here's how an empathy statement becomes part of a full, effective response:
Hi, Penny. I'm sorry to learn our Super Bright Gel Nail Polish has been chipping. I can understand why you want your manicure to last longer than two days! The gel polish will go on smoother and last longer if you apply thin layers. It's better to apply three very thin layers than two thick ones. To prevent chipping, give three thin layers a try!
For years, the customer care industry has been saying, "A complaint is a gift." Well, if we've really meant it, we need to treat one-star ratings and low reviews as gifts, too. While even our most gracious responses may fail to win over the most disappointed customers, we can demonstrate that we are listening, we are accountable, and we care.