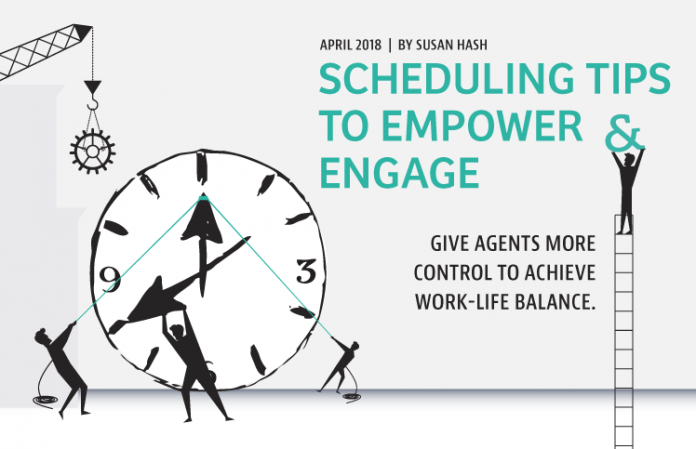 Spring has sprung here in Annapolis, MD. The little peepers are singing at the top of their lungs in the evening letting us all know that spring is finally here. Their singing tells us it's time for growth and renewal. What's better than empowering and engaging our agents to achieve growth and renewal?
FEATURE ARTICLE
Scheduling Tips to Empower & Engage
By Susan Hash
Give agents more control to achieve work-life balance.
CUSTOMER EXPERIENCE
Five CX Early Warning Signs
By Alok Kulkarni
Catch these problems before they impact your Net Promoter Score.
FORECAST FOCUS
Weaknesses of an WFMer
By Tiffany LaReau
How would you answer the toughest interview question?
IDIOM INSIGHTS
Lost in the Labyrinth… Customers Want Out!
By Kathleen M. Peterson
Many customers today feel lost in a maze of options. To maximize the customer experience, review the customer service chain within your enterprise.
LEADING THOUGHTS
Leadership Lessons from a Last Lecture
By Mark Brody
Leaders must be lifelong learners. How to become the leader you were meant to be.
TECH LINE
Good, Fast and Cheap! Can You Really Have It All?
By Lori Bocklund
The old saying, "Good, fast, cheap… pick two" is in jeopardy in today's diverse market.
THE VIEW FROM THE SADDLE
Rosie the Robot Meets Margo the Wine Bot
By Paul Stockford
The customer experience chatbot revolution is just getting started.
SPONSOR SPOTLIGHT
Reach New Speeds to Insight with a Speech Analytics Strategic Blueprint Workshop
By MainTrax
The key to success with speech analytics hinges on preparing to operationalize it with a strategy.
SPONSOR SPOTLIGHT
Why Teamwork Is the Most Important Investment You'll Ever Make
By Stephen Pappas
The team can only win when it works like a pit crew—fast, focused and in complete harmony.
SPONSOR SPOTLIGHT
Focus on Well-Being: The Benefits of Wireless Audio
By Sennheiser
Headsets have long been a key tool in improving ergonomics for call center agents.
Thank you to our April sponsors: Calabrio, Contact Center Nation, Customer Contact Strategies, Genesys, Human Numbers, ICMI Events, MainTrax, Panviva, PowerHouse Consulting, Sennheiser, Service Agility, Strategic Contact, Upstream Works, Verint and WFMSG.
They help make Contact Center Pipeline possible!! Please visit all our sponsors in our Pipeline Directory.
Have a great month.