Poorly designed IVR applications have been frustrating callers for years—and in too many cases, alienating customers rather than providing a quick and easy way to handle the most basic transactions. Worse, when callers opt out of a self-service system, their personal information often is not transferred with them and they're forced to repeat it to the agent.
While findings from Dimension Data's "2016 Global Contact Centre Benchmarking Report" show that contact centers are improving when it comes to passing the caller's information to the receiving agent, it is happening far too slowly. According to the benchmarking report, 80.9% of calls are routed via IVR systems, but 56.6% will then fall out to an agent. When the customer drops out of self-service, 48.1% pass no information to the agent; about one-third (33.5%) will pass along the customer's name; 30.9% will include account information and customer history; and 18.4% will have been validated through relevant security checks.
"Most IVRs are like Dory in 'Finding Nemo'—every time you call, it's as if they've never met you before, and yet you might have had a 20-year relationship with the company," says SmartAction CEO Tom Lewis. "You need to use that intelligence to your advantage—whether it's from activity on the website, in your business process, or anything that the system should know about and your customers expect you to know about, it should be reflected in the prompts. The prompts and the flow should be dynamic enough to be able to handle that."
SmartAction provides artificial intelligence-enabled voice self-service. The company's Intelligent Voice Automation (IVA) solution takes artificial intelligence and infuses it with state-of-the-art speech recognition capabilities, creating a customer service experience that rivals that of a live agent. "Our company was founded as an artificial intelligence research company, so a lot of what we do is based around not just hearing what is said, but knowing what to do with what's said, and dealing with it in a very conversational and comprehensive way," Lewis says.
SmartAction's IVA offers a wide spectrum of functionality that allows it to handle more complex interactions than traditional IVRs. Take roadside assistance, for example. A common call type might be that a customer's car has broken down on the side of the road and they need a tow truck.
"Not only is that a stressful situation, but it requires the system to understand unique words, such as tow or accident, to discern what that customer needs," Lewis explains.
At this point, a traditional IVR would route the call to an agent, but IVA is able to handle the next steps, as well: requisitioning the tow truck and following up with the customer to make sure it arrived. "We have outbound calling integrated with texting to make sure that the customer gets served," Lewis says.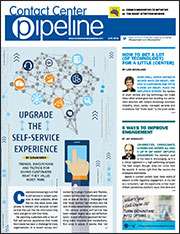 Download the full article here.