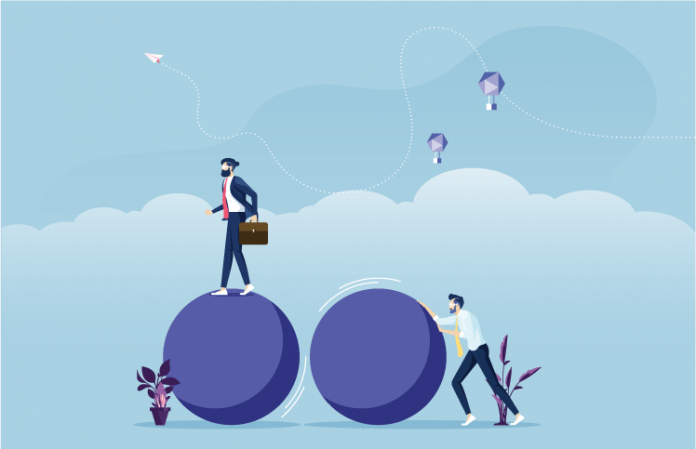 Get the ball rolling" is an idiom that means to start the action, to make the opening move." Its origin gives America credit for bringing the idiom into general use, starting in the 1840s. During the 1840 presidential campaign, William Henry Harrison employed a gimmick known as Victory Balls. These balls were 10 feet in diameter, consisting of leather and tin and were pushed from one campaign rally to the next while the crowd chanted, "Keep the ball rolling."
You might be wondering what exactly could be coming next in this article… building victory balls in the contact center? Well, yes, kind of. I would like to suggest that you begin 2021 with a DIY assessment of your center. To "get the ball rolling," I will share some of our proprietary consulting approaches for conducting an efficient contact center assessment.
There are eight key "Focus Areas" to cover; these create a structural framework for your Findings and Recommendations. We will cover the first four here and conclude the topic in Pipeline's February issue.
Getting Started
As we leave 2020 behind and begin the new year, it is an opportune time to evaluate the contact center's current state. What must you work on to assure that this "new reality" meets the demands of the consumer and your workforce? One thing for certain is that the value of today's contact center has finally made it to the executive suite. We might think we got there via a focus on the customer experience. In retrospect, that enthusiasm pales in comparison to the performance of and reliance on the contact center during the disruption caused by the 2020 pandemic.
As you plan an assessment, it is important to include both the contact center management team and the front line. This enables you to collect "current state" information and to collaborate regarding "trends" across teams and the categorization of strengths and weaknesses. As well, the assessment requires reaching out to cross-functional partners both from a business process perspective and to support departments such IT, HR and marketing. The ball will "roll" throughout the enterprise!
The exercise of gathering information and gaining insights from varied groups is particularly important as we recover from the pandemic. Many contact centers have faced massive disruption and losses during the past year. Social distancing has challenged premise-based operations; many were mightily challenged when they had to institute work from home.
Senior executives want to solve contact center issues; however, they don't really know what those issues are. They tend to want to fix things like "abandon" because it is easy to locate and comprehend. In the assessment, it is critical to focus the energy around the contact center's value. The timing couldn't be better when it comes to executive support.
The beginning of the new year offers the opportunity to invest time and energy into getting the "assessment ball" rolling. And, by linking improvements and any requested investments to the related term, "keep the ball rolling," you continue the action to keep the proceedings moving forward.
Making It Fun and Exciting
To conduct your own contact center assessment, engage your team members; make it inclusive, insightful, fun and exciting. It is relatively easy to use the SWOT analysis as a framework to identify Strengths, Weakness, Opportunities and Threats. And please, shut down any internal dialogue suggesting that "We don't have time," "Can't do it," or "No one will listen." The language of untested limits must be evicted from your mind. Work with your team to review findings and collectively develop a "consultant's view" of your current state and future needs. Your front line will be thrilled to have an opportunity to report on their current state and provide suggestions for improvement.
Four Focus Areas
I begin with four focus areas and their respective descriptors to serve as a generic starting point to the assessment: Strategic Planning, Organizational Structure, Work Processes and Workforce Management. (Any additions or subtractions can be easily made.) It is relatively easy to "divvy up" the load; results will be faster and richer than attempting to take on an assessment single-handedly.
Strategic Planning
Validation of Business Goals and Drivers—Strategy typically resides in the executive suite and ideally you are already familiar with the enterprise's strategic objectives. If possible, arrange a meeting with your executive leadership to validate business goals and drivers for the upcoming year. Is it stabilization, recovery, growth? The more you know, the better prepared you will be for presenting the results of your assessment.
Vision, Mission, Brand and Future Direction—The vision, brand and future direction of the business are easy to find if your organization publishes an annual report; if not, check marketing materials, web presence and internal materials. These should provide enough information upon which to align your work. It is important that the contact center documents how they support the vision, brand and future direction.
Desired Elements of the Customer Experience—Elements of the customer experience must be identified and documented. Sadly, far too often specific elements are lacking. In their place are puffy objectives such as, "We want our customer experience to be great!" (or fabulous, or to surprise and delight). However, none of these descriptors are behavioral, observable, measurable or trainable. Take the time needed to document SPECIFIC elements of the customer experience, such as "quick and accurate responses, solution-oriented, knowledgeable reps, easy to do business with," etc. Once agreed upon, the customer experience elements become part of a "cause-and-effect" reality. For example, if you state that you want "knowledgeable" reps, that means you must have solid training, job aids, technology and processes to support that specific outcome. As well, you must document major improvement opportunities.
Organizational Structure
How the Contact Center Is Organized—Draw out your org chart and evaluate how many critical duties (e.g., training, workforce management, escalations) are a "shared" responsibility. Unfortunately, when very different functions like training and workforce management are "shared," they are often neglected or mishandled. While smaller contact centers really need to share duties, those duties need to be documented and scheduled in order to assure coverage. Figure out where the organization needs to formalize duties and determine how complicated it will be to decommission the shared model in favor of a more formalized structure. This is of particular importance for growing organizations.
Management Structure (Reporting Relationships)—Examine the ratios of supervisor to frontline reps, managers to supervisors, etc. The ratios of reps to supervisors can range anywhere from 8-to-1, up to the not-recommended 50-to-1. The ratio depends on the contact center's overall setup. When supervisors are coaches, the ratios are smaller. If ratios are not smaller, a team lead may be added to support the supervisor. Think functional tasks first; then determine acceptable ratios.
Roles and Responsibilities—Assignment is also blurred in an environment where the organization has grown by default rather than by design. Focus on evaluating overlapping duties, replication of effort, consequences (findings), and options for the future (recommendations.)
Cross-functional Communication and Information Sharing—Information is "currency" in the contact center. Be sure that there are open lines of cross-functional communication and document major obstacles.
Work Processes
Major Tasks Performed and By Whom—What are the Top 5 tasks performed in the contact center (e.g., take an order, book an appointment, resolve credit issues, etc.) and by whom? All channels must be accounted for… voice, email, chat, text and web. Determine to whom tasks are assigned, and again, watch for shared roles and skills required.
Process Efficiencies and Inefficiencies—Process contributes more to handle time than agent skill. With convoluted processes, accuracy, navigation and time to serve suffer. Document any inefficiencies and their impact; then determine how to achieve process efficiency.
Assist and Escalation Support—Many organizations have realized the gap in providing reps assistance when a work-from-home (WFH) plan is launched. In the physical contact center, peer-to-peer interactions settle many a rep's query. Once that option disappears, a significant gap occurs for many. WFH in particular needs "assist and escalation" support. This function must be properly staffed to be successful. Document the circumstances and processes for assist and escalation in order to reduce issues.
Workforce Management (WFM)
Workforce Management—WFM is critical to contact center operational success. In evaluating your operation, you must identify where this responsibility lies and whether proper skills and technologies are in place. This function is sometimes "shared," as a manager of a small operation may also own WFM. The key is to determine if the requisite skill and associated tasks are able to be performed in the center. If not, this would fall in the Weakness category.
Contact Volumes and Staffing Levels—You must track demand and capacity as well as volume and duration (arrival patterns studied) across all channels. The staffing levels to handle calls (the most perishable channel) are determined by establishing Service Level objectives (Service Level is X percent of calls answered in Y seconds). From a planning perspective, Service Level accounts for both the caller's delay and the utilization of reps. You have probably figured out by now that you must have an established Service Level for effective planning and, hence, for staffing. Staffing to volume/duration and arrival patterns are necessary, but not sufficient. WFM planning MUST include accurate representations of non-phone work and shrinkage (PTO, special projects, training, etc.).
Characteristics of Demand—By categorizing your contacts by frequency and complexity, you are able to focus on what happens most frequently. This is where significant gains can be made. For example, you can facilitate the use of automation for high-frequency, low-complexity contacts. High-frequency, high-complexity contacts are best handled by the most senior reps. Routing those contacts properly requires identifying the need and matching that to the best resource. In addition, understanding the characteristics of demand improves the ability to identify which process improvements will yield the biggest bang.
Analytics—A Reports Catalog provides an inventory of available analytics and the process by which any custom report requests are to be handled. Evaluate your analytical bench strength; this is incredibly weak in many contact centers. Pursue staffing for dedicated WFM analysts positions or training when it is a shared duty.
The Journey to Enlightenment
You can do this! And it will be an enlightening journey. Far too often, contact center leaders are subjected to "crisis of the day" management. It is time to take a step back. Begin evaluating your current state and focus your efforts on those areas with the greatest impact. 2021 is truly the time to "get" and "keep" the ball rolling.
Stay tuned for next month's topics: Technology and Systems, Metrics and Performance, Training and Competencies, and People and Human Factors.