The ability to think strategically, solve problems, provide effective feedback and motivate staff—these are the marks of a good leader. What separates good from great often comes down to personal values that are formed early in life. For Nicole Berry, those values are communication, honesty and humility. They compose what she refers to as a "three-pillar system" that drives her leadership approach.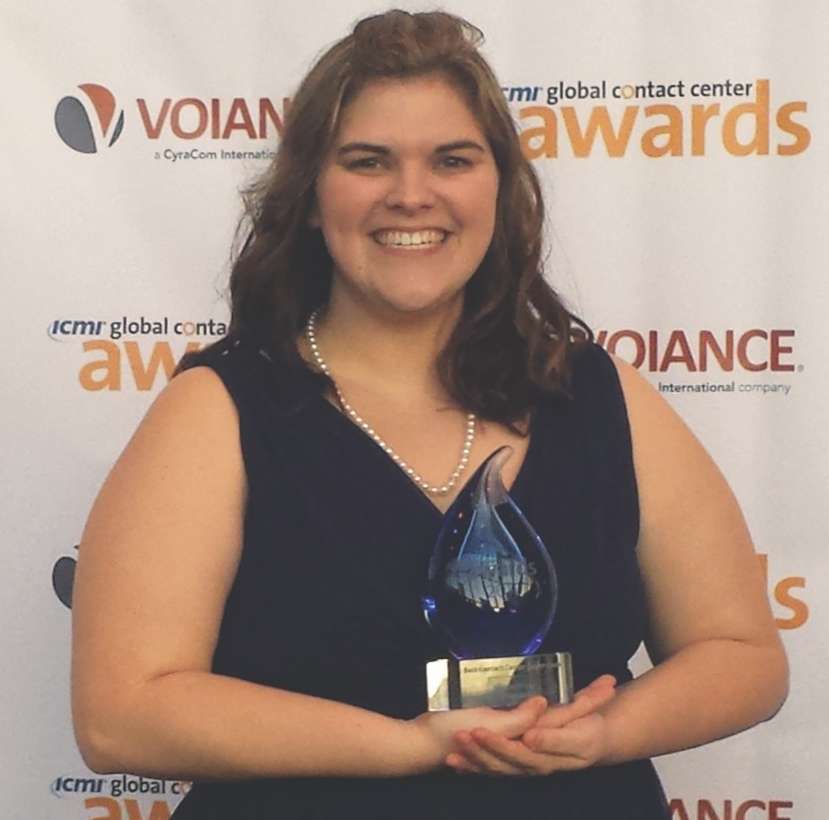 Berry is a shining example of the type of supervisor that both executives and direct reports appreciate—someone who is committed to delivering positive outcomes for her clients, individual team members and the organization. Berry is a senior contact center lead at Sedgwick Claims Management Services Inc., a leading global provider of technology-enabled risk and benefits solutions. It's a role that she carries out with high energy and an infectious enthusiasm. The judges for the ICMI Global Contact Center Awards program recognized those qualities, among others, and named Berry the winner of the 2016 Best Contact Center Supervisor Award.
Early Signs of a Promising Career
Berry often has been described as a natural born leader. She set her sights on a career in business at an early age, taking business courses throughout her high school years. She earned her first accolades for her efforts as a senior when she was named Business Student of the Year.
Outside of the classroom, Berry's first job provided her with hands-on training in managing a team. While working part-time at Tim Hortons, a multinational fast-food restaurant known for its coffee and doughnuts, Berry learned and worked through every job role at the restaurant. She was promoted to shift supervisor at the ripe old age of 18.
Berry credits her early management experience with helping her to develop a teamwork philosophy that she still believes in and promotes today. "We're all in this together," she says. "We're all trying to get to the same goal, we just might have different responsibilities to achieve it."
After high school, Berry went on to earn a Bachelors degree in Business Management from Wright State University. But instead of jumping immediately into a business career, she opted to serve a couple of years at the regional office for Great Lakes Chi Alpha, part of a national campus ministry sponsored by the Assemblies of God. It was a learning experience that she found to be fulfilling as well as very applicable to the business world. The ministry core values—community, creativity, diversity, excellence, integrity and servant-leadership—provided a foundation that translated well to her future career in the customer service field.
In 2012, a family member suggested that Berry apply for a job at Sedgwick. She did, and was hired as a temporary service center representative. After less than eight months on the job, Berry was promoted to team lead, and last fall, she advanced to a senior team lead position.
The 3-Pillar System in Action
Berry believes that, to be effective, contact center supervisors must be able to balance the detail-oriented side of the job with the human relationship aspect of leading a team. "There is an art to balancing the technical and connectivity roles," she says.
While being task driven helps her to excel at managing the various expectations placed on her, maintaining a one-to-one connection with each of her 15 team members "is one of the most challenging parts of my job, but also the most rewarding," Berry says. She adds that her task-oriented side helps her execute actions to meet the connectivity goals that she sets for herself—for instance, scheduling to-do list entries and calendar invites as reminders to connect with her staff every day.
Berry relies on her three-pillar system (communication, honesty and humility) to drive everything that she does, including engaging with her team in a way that empowers and motivates them to reach their goals. Open communication is key, she says, but it needs to go both ways. "Whenever there is a disconnect, it's because people don't ask, they don't inquire," she stresses. "Supervisors need to ask their direct reports how they're doing, and team members should feel comfortable bringing up questions to their supervisors without the fear of an emotional or negative reaction."
One way that Berry puts that philosophy into practice is by regularly surveying her team. Every six months, she sends her team members a survey—which they respond to anonymously—to ask how she is performing as a leader. She asks them to grade her and offer feedback on what she's doing well, what she's not doing well, where she can improve as a leader or person, what she should focus on more from a team perspective, and whether they have any ideas or further feedback for her.
"It's important for leaders to demonstrate that we're all in this together and that we need to be open with each other," she says. "How else can we understand what the other person is thinking or feeling if we don't ask?"
Practical pointer: Handling disability and Family Medical Leave Act (FMLA) claims calls often can be emotionally draining for service center reps. "The caller or a family member is going through a tough time and is worried about his or her livelihood—it's very powerful," Berry says. She tries to lighten the mood by leaving notes or small gifts at her team members' workstations. "I make it random and a little goofy to take the edge off," she says. "Any opportunity I have to encourage, enlighten or connect with my team, I try to do it, because I was in the role. I understand."
Modeling Core Values and a Caring Culture
Berry strongly believes in Sedgwick's "Caring Counts" operating philosophy and its core values (deliver excellence, operate openly and with integrity, embrace change, grow as individuals, operate as one company, one team).
What does "Caring Counts" mean? "We're a company that takes care of people and organizations by delivering cost-effective claims, productivity, managed care, risk consulting and other services through the dedication and expertise of our colleagues," Berry explains. "It is profound in its simplicity. If we take care of the people, all of the other details will work themselves out. But we need to take care of the people, and that includes our clients as well as our colleagues. Caring Counts is the underlying principle in everything that Sedgwick does—from the mission and vision to something as simple as how they handle PTO (paid time off)."
Berry makes a point of reinforcing that principle as well as Sedgwick's core values during daily communications with her team. Much of that takes place during coaching. The one-to-one sessions focus on getting team members to take ownership of their performance by having them listen to calls and self-identify improvement opportunities and action steps.
When listening to a call with a team member, Berry tries to switch the individual's frame of reference from how they feel that they handled the call to how the client would rate them. "I ask them, "If the client was here listening to this call, how would they feel about how you interacted with their employee?' It has a more powerful impact, because you're not thinking of it from a position of 'me,' but from someone else's point of view," she says. "That's an example of Caring Counts."
Practical pointer: One of the first goals that Berry set for members of her group was to create a team culture. As she explains: "We're called the PEEPS, based on an acronym that we created—People Ensuring Exceptional and Professional Service."
Each team member has a PEEP name, like Perform PEEP. Berry is known as Sergeant PEEP. The idea took hold quickly and even Berry was surprised by the way the team identified itself with the team's motto.
"It was initially something that we did for fun, just to keep things light," she says. "But now I'll hear people say things like, 'We do that because we're PEEPS.' I love it, and I love that my people own it."
Networking and Goal-Setting Is Key to Growth
One of the most exciting aspects of a supervisor's role is the chance to help others to grow and reach their goals, says Berry. She advises those interested in a leadership career to network and be on the lookout for opportunities to use and expand their skills.
"Networking is important because if people don't know who you are, then people don't know who you are. It's that simple," she points out. "It's also important to align yourself under a leader who will give you opportunities. That is where you can really shine and prove yourself. As long as you're willing to volunteer and take on additional assignments, you never know what might come out of it."
Goal setting is another key leadership responsibility. Berry is dedicated to helping her team members set short- and long-term goals for improvement. "Some leaders don't do it often enough because they think that their people won't be engaged in it," she says. "I've found that to be true initially—but once you get someone hooked on setting goals, they don't want to stop."
Berry sees her commitment to her team's development as a way of investing in the company that provided her with so many opportunities. "The company as a whole, and the leaders specifically, have been very influential in my career," she says. "I appreciate it, so I want to pour back into that. I find the saying to be true that it's more rewarding to give than to receive."
Inspired by Pace and Opportunities
The contact center environment is typically fast-paced and often hectic. People either love it or hate it. Berry thrives on the lively atmosphere and chance to help her team to be their best.
"I'm inspired by the busyness, but also the opportunity to change my team's professional lives. I want them to be successful no matter what their goals or dreams are—I want to help them realize their full potential. If they want to remain a service center representative, then I want to make them the best SCR. If they want to transition to another role, then I'm going to look for opportunities to help prepare them for that role. Sedgwick makes it easy," she adds. "I take the processes and the structure that is already in place and I try to tailor it for my team.
"It all goes back to the pillars: communication, honesty and humility," she says. "If you can operate from an understanding of each of those items, and use them as your foundation for having great communication, being honest and staying humble, then I wholeheartedly believe that you can be successful in anything that you do."