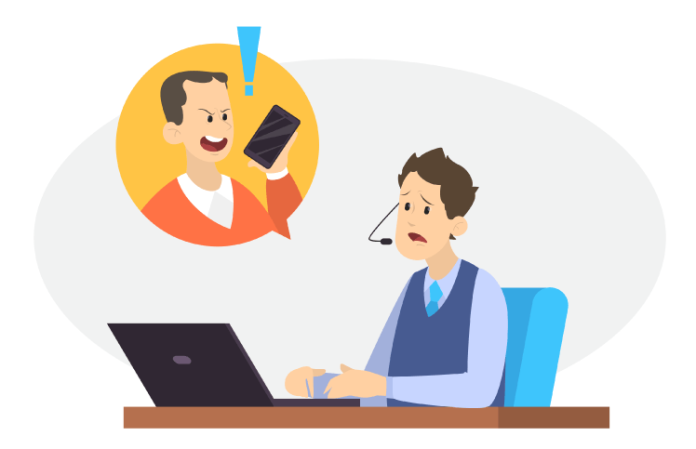 Tense, uneasy, and overwhelming – are all words that can be used to describe the current customer support environment.
A combination of several factors, including a labor shortage and dwindling customer patience, are creating the perfect storm for angry customer service.
These were among the findings of Netomi's The State of Customer Service: The Frustrating Reality of Customer Support in 2022. It polled more than 1,200 consumers across the United States to analyze what does the customer service landscape really look like, and how in turn, does this impact the agent experience?
For one, emotional outbursts are prevalent. Frustrated with the delivery of support, many customers admit to lashing out – 14% have screamed at and 19% have sworn at a company's representative – while 67% have elevated an issue to a manager.
As support tickets are on the rise, agents are feeling the pressure. And they too, are showing signs of distress – 73% of customers have experienced an agent being rude to them.
The Impacts of Customer – and Agent – Stress
The customer service industry is one in which the Great Resignation job exodus is evident – globally, agent turnover rates consistently hover between 30% and 45%, and it's also estimated that there are 25% fewer call center agents than there were before the COVID-19 pandemic.
A lack of knowledge of how to provide better service, an overly heavy workload, and constant pressure to work faster are among the concerns faced by agents.
A constant slew of consistently rising support tickets and interacting with fed-up customers stand as additional stressors for this workforce that is already stretched to the max.
This proves detrimental to the customer experience, as a vicious cycle of longer wait times and delays in handling customer issues ensues.
It is time to break that cycle.
The most frustrating aspect of customer support is its long wait times, according to 43% of customers. This should come as no surprise when you consider that, when reaching out to support teams to receive assistance, more than half of those surveyed (57%) have waited for longer than an hour.
Adding to this friction, not all customer queries are answered during a single touchpoint.
What is clear is that customer service leaders need to adapt their processes…
As highlighted in the report, 65% of consumers have to follow up more than once to get their question resolved, and 25% of respondents reported needing three or more calls to resolve a single issue. Many have grown so frustrated that they hang up on agents mid-conversation – 61% have done this at least once.
The question then becomes: as those who bear the brunt of customer frustrations, how can the jobs of support agents, and elements of their day-to-day working lives – be improved?
What is clear is that customer service leaders need to adapt their processes and invest in additional agent training to ensure customer satisfaction, as well as greater efficiency within the workplace.
Reducing Call Volumes and Setting up Agents for Success
In order to keep customers happy, and lessen the likelihood of outbursts occurring, it is critical that companies arm agents with as much information as possible, in order for them to take the best course of action and provide their customers with quick resolutions.
Sitting alongside live agent support teams, artificial intelligence (AI)-powered virtual assistants for customer service are one such solution that can help support teams in a number of ways.
For one, these virtual agents can assist with the management and processing of incoming tickets before handing them over to agents. This may involve gathering information from customers or back end systems (or both), such as order number or background information on their issues.
This can help increase one-touch responses by arming agents with the knowledge and customer information they need before they ever get involved.
For instance, an AI may classify a ticket regarding a defective product as needing urgent attention and would gather details such as customer purchase as well as product history ("is this a recurring or common issue with this particular product?"), prior to handoff.
The agent would then be well-versed in the basic details of the query before conversing with the customer, thus saving time from asking the customer to repeat themselves. This also imparts to agents a sense of empowerment: the ability to anticipate the needs of a customer and respond accordingly.
For example, based on a customer's purchase history, an agent could cross-sell a similar product, or, knowing that a customer had previously inquired about a subscription upgrade (information captured and retained by the chatbot during a prior interaction), discuss these options. Having an AI-powered assistant to share this vital knowledge allows agents to stay one step ahead.
With chatbots facilitating enhanced connections on a personal level, customer service teams can then deliver more relevant content and support to their customers, for an enhanced experience.
Lowering the Workload
Depending on the industry, on average 40%-80% of support tickets are highly repetitive.
AI-powered virtual agents can automatically resolve these tickets (think of common, everyday queries such as "what's the status of my refund?"), offloading the mundane work from agents and allowing them to focus on more fulfilling work that requires more creativity and critical thinking.
Customers, in turn, are provided with immediate resolutions to their issues. Meaning little to no hold times, and frustrations that are significantly diffused.
By harnessing AI-powered solutions to make aspects of their business more efficient, business leaders can then focus their efforts on developing a robust customer service department with agents that are dedicated, well-trained and empowered.
The focus could instead be placed on additional training programs to help agents develop and hone necessary skills in areas such as critical thinking, complex problem-solving, and acumen in new and emerging technologies such as AI.
Scalability, Whenever and Wherever
Having an AI solution in place will afford teams the ability to quickly scale up and down without the added headcount of expensive new hires, and to deal with expected and unexpected spikes in tickets.
For instance, summer may be the height of a company's busy season, while February and March are typically much slower.
If February does turn out to be unexpectedly busy, investing time in the hiring, onboarding, and training of new agents to handle the unpredicted spike in demand is not a very feasible option.
Available to offer assistance 24/7, AI-powered virtual assistants can answer a range of questions, no matter the time of the day.
Today's customers have higher expectations than ever and it's clear that by and large, these expectations are not being met.
It is crucial for support teams to leverage tools to decrease the incidents of customers losing patience with agents – tools that can complement them, allowing them to perform their jobs more productively, while also increasing their levels of fulfillment.
Today's customer service landscape is, at times, precarious, yet with a little help from AI, imagine what it could look like tomorrow?
Puneet Mehta is CEO,
Netomi
. He spent much of his career as a tech entrepreneur as well as on Wall Street building trading AI. He has been recognized as a member of Advertising Age's Creativity 50 list, and Business Insider's Silicon Alley 100 and 35 Up-And-Coming Entrepreneurs You Need To Meet.